Mission Statement
Every year, we are trusted by thousands of entrepreneurs to start, grow, protect and manage their businesses. We have been doing that for over 20 years.
Our mission is to be Canada's leading provider of business development services. From starting and growing your business to protecting your intellectual property and reducing your taxes.
Our commitment is to support you throughout the life of your business and we have the expertise to make it happen.
Join us and make your new venture a success!
Community Support See what our clients are saying


Business Development Centre is a private organization specializing in Business Registration and Incorporation services including Not-for-Profit and Charitable organizations.
Our activities go beyond business registration. We also provide complete accounting, monthly bookkeeping, payroll and reporting to small and medium size businesses. Our clients include Medical Practitioners, Consultants, Restaurants, Car Dealerships, Manufacturers and Construction Companies.
Everyone is different. That is why Business Development Centre offers personal attention and custom tailored services to suit your needs.
Please note that any documents or forms that we provide as part of our service are standard documents and due to legal restrictions we do not modify them. However, you are free to modify and use them as you see fit.
At the present time Business Development Centre is able to offer more than 20 years of professional experience to small and medium size businesses. We also pay special attention and provide support for home-based businesses. Our goal is to provide a one-stop solution to busy entrepreneurs and to become the preferred partner for our clients.
We welcome you to review the services Business Development Centre provides and we will be happy to answer any questions that you may have.
PLEASE NOTE: WE ARE NOT LAWYERS AND WE WILL NOT PROVIDE YOU WITH LEGAL ADVICE. WE STRONGLY RECOMMEND THAT YOU CONSULT A LICENSED LAWYER FOR LEGAL ADVICE.
"Helping You to Succeed"
---
---
Jane McKenna, MPP - Burlington visits Business Development Centre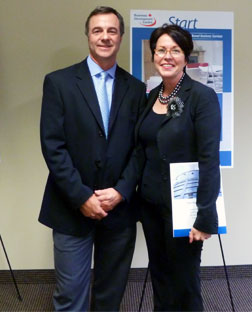 July 19th, 2012
Ms. McKenna's office contacted the Business Development Centre requesting a meeting due to our presence in serving the small business community. The nature of the meeting they requested was to "gain a sense of what the economic climate is like facing new and small businesses, and what your services/strategies are for helping businesses grow and prosper are."
We were pleased to have been asked for our opinions. We help tens of thousands of entrepreneurs start and grow their businesses every year, so we have a few ideas!
The meeting was a lively one - turns out Jane's husband has his own small business and so she knew the challenges. Jane's goal was to hear of ideas on making it easier for people to start businesses, getting the resources and support they need to be more successful, and how to reduce the "red-tape and reporting" that can be daunting for some. She said that her research shows that small businesses face too many requirements that take time away from doing the actual business and that, therefore, hurts their profitability.
When Jane came to better understand what we do at Business Development Centre, she was excited to hear about our services and extra resources we provide to help entrepreneurs succeed. She got an on-line tour of BusinessConnect, our new portal for entrepreneurs .
A Rogers TV station aired a short interview with Jane where she mentioned how important what we do is for small business. That was very rewarding to hear.
After the meeting, Jane's office sent this note:
"Thank you for your seasoned perspective. You provided us with a lot of valuable information and we were glad that you felt comfortable enough to speak frankly. Our province needs more candid conversations, and it certainly stands to benefit from listening more closely to the needs of small business."
---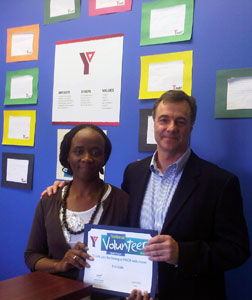 Eric Cole of Business Development Centre recognized as a YMCA National Volunteer by Barbara Mangwende, Director, YMCA Markham Business Centre, Markham, Ontario.
The YMCA Centres administered the SEP (Self Employment Program) and various other support services to entrepreneurs.
Business Development Centre presented a monthly workshop called Business Registration and Proven Tips For Success for the participants of these programs at the YMCA.

The workshops explained our principles of start-up success along with everything you need to know about choosing the right business structure, registering the business and all necessary government accounts, how and when to use Trademarks and Copyrights to protect what you build and other tips on being more successful.

---
As much as we support our clients to achieve success in the business world, as a good corporate citizen we support initiatives in the community designed to improve the quality of life of the community's residents.
To help celebrate the season of giving, in 2011, the Business Development Centre, it's management and staff have chosen the Sick Kids Hospital Foundation as our charity of choice. We feel that, the Canada wide and even worldwide impact of the good work done by this organization warrants our support.
If you wish to learn more about Sick Kids Hospital and wish to contribute to the cause, please follow the link to connect to their website: Sick Kids Foundation