Template Web Design
Frustrated with the quality of your recently purchased template?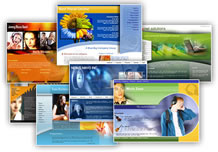 Business Development Centre offers template website design, where the project is based on an existing website template to save development time and maintain a firm budget. Template development is a successful way to achieve a great look and feel within a fixed budget. Templates can be used to create a high quality website which will provide you with a professional presence on the web.
Why choose a design template?
The advantages of working with the Business Development Centre are many, and the benefits will become obvious once you join us. Among other things, we offer the following outstanding benefits:

Affordable Low price
Our charges are lower than the prices found at other web studios. We don't start from scratch but build on pre-made web templates, we're fast and inexpensive.

Premium Quality
Using web templates from the world's leading providers as well as the expertise of our professional staff guarantees incomparably high quality end results.

Great Support and Customer Service
We provide great support, 5 days a week (Mon-Fri) live chat rooms, phone-lines, and e-mail support.

Fast Design Turnaround
Business Development Centre is much faster than searching for and haggling with web studios. In fact, most of our processes take less than 5 business days.

Wide Range of Services
You'll get the best web design, programming, and hosting services. We've got your back end and your front end covered.

Preview Before Payment
We can use pre-made web templates, so you can preview the appearance of a future website before you pay for it.
At Business Development Centre, we are committed to providing an effective and productive online presence for your business or organization. Tailored specifically to creative professionals, every Business Development Centre project will benefit from our responsive customer service, proven standards of excellence and our results oriented vision. 100% Satisfaction Guaranteed.
Design Template may include
Adding your text
Adding your existing logo
Changing the color scheme
Adding pages
Importing custom images
Altering animations
Creating custom banners
Connecting email forms
Adding a traffic counter
Adding the current date
Adding Audio or Video
Adding an image Gallery
Developing a catalog
Add internal/external links
Sound modifications