Graphic Print Design
Show your customers you take pride in your businesses image.
Our graphic designers are talented and professional with years of experience and bring you the best in current skills and expertise! Is your existing print branding in drastic need of a makeover or are you a new business looking to make an impact? A printing package from Business Development Centre includes a completely custom print design, flyers and catalogue designs.
Case Study
Simple Website Manual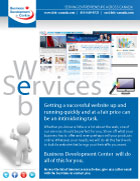 Created for our web services, the flyer design was created for use to promote the our products and services in Toronto.
Flyers & Leaflets, We Design any style and shape of leaflet or flyer to advertise your business and create intrigue with passing customers. Our Designs are bright, attractive and brilliantly styled. Our Flyers and Leaflets come in various formats, either single or double sided and in full colour, duotone or black and white. We can also design cut out shapes and cater for a variety of themes.
Brochure Design, At Business Development Centre we create all sorts of Brochures for your business or personal needs. We allow for a variety of custom shapes which deviate from the above as well as cut outs, pop outs and window openings. Our brochures can be printed as single or double sided, in full colour, duotone or black and white with numerous styles and themes.
Catalogues Design, Our Catalogues come in a variety of fresh new looks and designs, perfect for selling or advertising your products. We also Design booklets which can be bound to create appealing advertising tools! We use a combination of digital techniques as well as photography to represent your products in the best possible light.